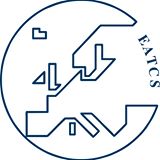 MFCS 2019 is organized in cooperation with EATCS
How to get to Aachen
Air Travel
All airports are located near the main train stations of the respective cities and have trains and/or subways connecting them. For rail connections from the airports to Aachen, please refer to the section rail travel below.
---
Rail Travel
Aachen Main Station (Aachen HBF) is well-served by the german rail network with connections to most other major german cities. Check the National Rail website for ticket information and booking.

Here are some travel times between Aachen and other selected destinations:
Cologne 40 minutes
Düsseldorf 80 minutes
Frankfurt 1.5 hours
Munich 5.5-6 hours
Berlin 5.75-6.5 hours
Hamburg 5.5 hours
Regular trains (2 an hour) leave both Cologne and Düsseldorf main station (Köln HBF, Düsseldorf HBF) for Aachen main station (Aachen HBF). There is a direct connection from the Düsseldorf Airport station (Düsseldorf Flughafen Bahnhof) to Aachen hourly. There is also a direct connection between Frankfurt Airport (Frankfurt (Main) Flughafen) and Aachen main station (Aachen HBF). You can also directly travel from Düsseldorf Airport to Aachen West, which is even closer to the conference venue. Check train time tables on the National Rail website. Reduced tickets for MFCS participants are available here.

By foot, it is a 20-25 minute journey between Aachen central station (Aachen HBF) and the Super C and a 10-15 minute walk from Aachen West. Taxi service is available from the main station.

The Thalys rail service operates between Paris, Amsterdam, Paris, and Brussels, Aachen, Cologne and Düsseldorf, as well as a few other cities.
---
Car Travel
If you are coming from Cologne, follow the A4 until Kreuz Aachen and change to the A544 in direction of Aachen. If you are coming from Düsseldorf, take the A44, followed by A57, A46 and back onto the A44.
The Super C building is located in the heart of Aachen, for sat-nav users, the post code for the Super C is 52062 Aachen, the street and house number is Templergraben 57. The parking lot has the following address: Professor-Pirlet-Straße 10, 52074 Aachen.
Please note that the inside of Aachen is a low-emission zone. In order for your car to be allowed to travel inside of Aachen, you need to obtain a so-called green sticker first. Please follow this link to get more information on where to obtain such a sticker.
---
Coach Travel
Flixbus provides coach service between Düsseldorf and Aachen as well as Cologne and Aachen as well as many destinations in Europe. The terminal in Düsseldorf is located at Worringer Str. 140, 40210 Düsseldorf, near the main station. A terminal in Cologne is located at the airport, directly outside at the Busbahnhof. Another terminal is located near the main station, Trankgasse 11, 50667 Cologne.
---
Map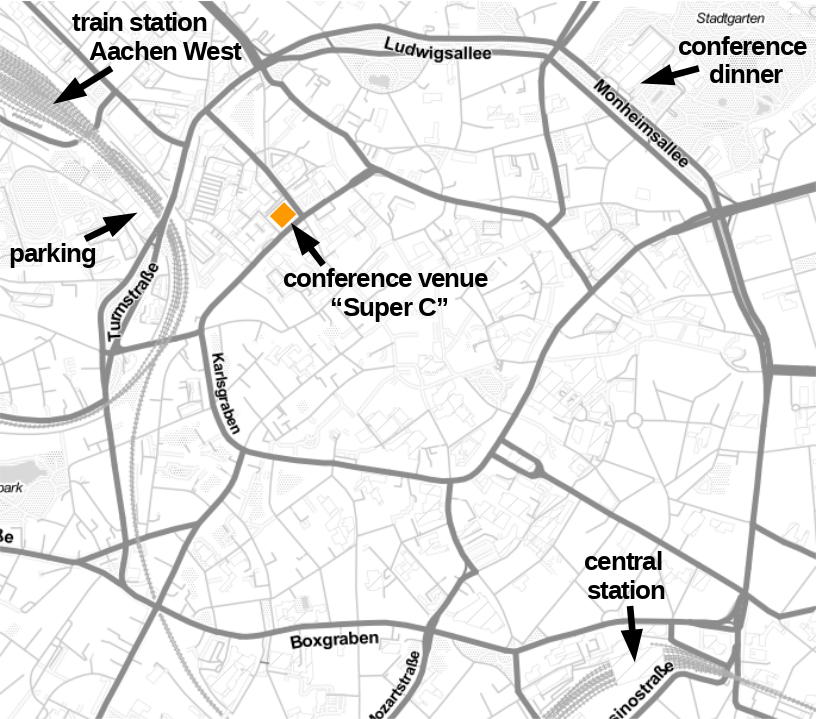 ---
Important Dates
Paper submission deadline:
Monday, April 22nd, 2019 (AoE)
Notification of authors:
Wednesday, June 12th, 2019
Early registration deadline:
Sunday, July 7th
Standard registration deadline:
Wednesday, July 31st
Conference dates:
August 26th–30th, 2019